Learn more about our authors books and where you can purchase them. Click on the link and it will take you to the page where you can make your purchase.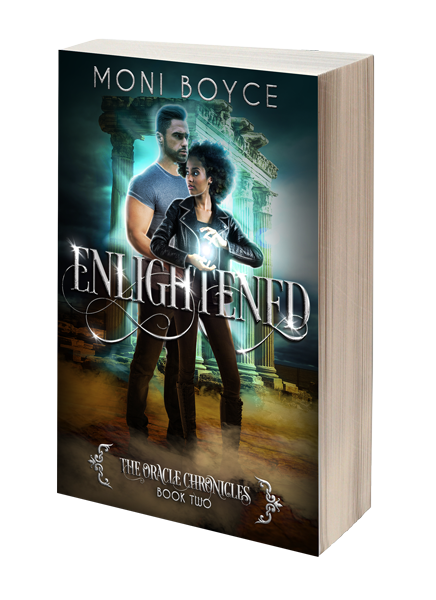 Enlightened: The Oracle Chronicles Book #2 – By Moni Boyce
When her mother's letters reveal an ancient tome exists, Willow realizes more is at stake. Killian knows about the book as well and will do whatever it takes to possess it and her. To stop him, they embark on a global scavenger hunt to find it before he does.
On the journey, Willow and Eli explore life as a couple. They're falling head over heels into bed and in love, now that Eli has put passion before duty. But, navigating romance proves challenging when their relationship becomes embroiled in controversy. Besides warring with Killian, they must fight against the people that oppose their romantic union.
Along the way, their chase to find the missing book unveils unknown aspects of Willow's powers and unearths secrets and betrayals.
As Eli told her before, 'All magic comes at a cost.' By the time they reach the end of their quest, they will pay a hefty price for staying one step ahead of the vampire king. Can their budding romance withstand the chaos and fallout? Or will evil triumph?
ENLIGHTENED is the second installment in The Oracle Chronicles series.
**This book is part of a series and ends in a cliffhanger**
Purchase at: Amazon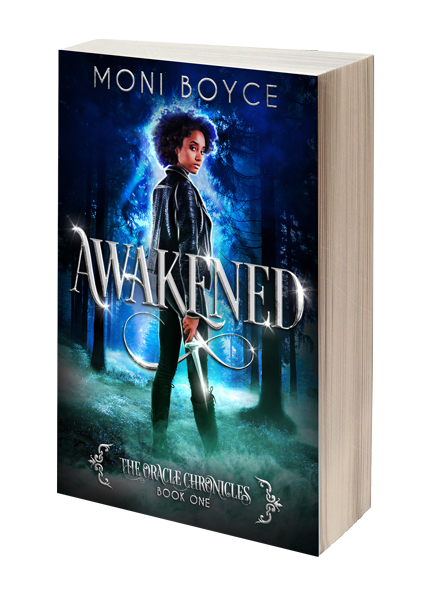 Awakened: The Oracle Chronicles Book #1 – By Moni Boyce
Secret lineage, a ruthless vampire, and forbidden love.
Willow Stevens dreams of stardom are eclipsed by the real nightmares of a sinister man haunting her dreams. Unbeknownst to her, Eli Walker, her hot but snobbish co-worker, may know the reason nightmares plague her, but their history shows he is more prone to reject her, than help her.

Then Willow passes out at work only to wake in Eli's apartment. There she has her chance to learn more about her heritage. But, knowing why the vampire king stalks her doesn't make the nightmares disappear. If anything, they become more real as she now faces off against a slew of creatures she'd always believed were myth.

That Eli is one of those creatures is just her luck. Secret witch guild or not, his natural ways are casting spells her heart can't escape. As a Protector his only focus should be her safety. Anything else is forbidden. He plans to stay in task, but some women break a man, or tempt him to break the rules.

Can Eli keep Willow alive and safe from the vampires long enough for her to grow her own powers or will both cast aside rules for a reckless passion that will only lead to danger?
AWAKENED is the first installment in The Oracle Chronicles series. This interracial, paranormal romance is a great mix of magic, adventure.
**This book is part of a series and ends in a cliffhanger**
Purchase at: Amazon, Google Play, B & N, Apple and Kobo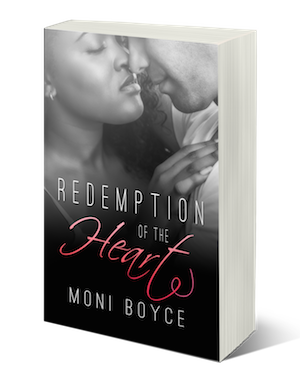 Redemption of the Heart – by Moni Boyce

After surviving an abusive relationship that landed her in prison, Gemma Peyton, just wants a fresh start once she is released. Her focus is to create a new life for herself and put men and relationships on the back burner so she can rebuild.
Alex Chambers hasn't felt anything for another woman since his wife died a few years ago. His life is his restaurant until the moment he meets his new waitress. Something stirs within him that's been dormant for a long time.
Despite the baggage each of them is carrying,neither of them can fight the attraction they feel for one another, even though they try to resist. As they fall harder and deeper in love a shocking incident from their past that they unknowingly share, threatens to tear their newfound love apart.
Once the truth is revealed, will their relationship be able to survive? Or will the revelation shatter the love that's grown between them?
Purchase at: Amazon, Barnes & Noble, Kobo, Apple and other retailers.